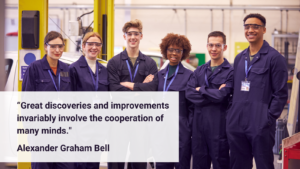 What is National VET Team?
National VET Team, a group of national experts from Vocational Education and Training sector, is an EU Commission initiative that started in 2021 with the purpose to:
Promote and enhance progress toward the application of EU VET tools and principles in projects funded by the Erasmus+ programme.
Support the development and internationalisation of VET sector through engagement with VET management, practitioners, researchers, Erasmus+ coordinators and beneficiaries.
Collaborate with other National VET Teams and share the best international practice in VET.
Provide advice and support to EU funded projects supported by the Erasmus+ programme.
Membership
Members of the VET Team are educators, practitioners, Erasmus+ project coordinators, quality assurance experts, mobility experts, and national authority representatives who have understanding, experience and an interest in VET mobility.
How to get involved
To get involved and find information about this year's themes and activities please contact Mila Popovic at mpopovic@leargas.ie
Resources
No Post Selected
VET Events & Opportunities