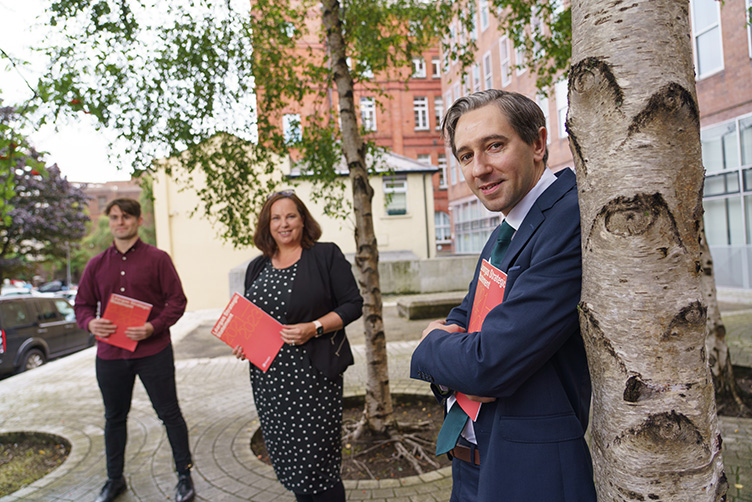 Minister Simon Harris Launches Léargas Strategy Statement 2021-2023
---
---
People Matter, Partnerships Work, Programmes Transform
We are delighted to publish our new three-year strategy for Léargas covering 2021 to 2023.  Minister for Further and Higher Education, Research, Innovation and Science, Simon Harris TD launched the Strategy along with our Executive Director Lorraine Gilligan and Erasmus+ VET participant JJ Clarke.
Minister Harris said: "It's really important that we understand (European) opportunities are for everyone.  Mobilities afford participants the chance to improve language skills, gain self-confidence and independence and immerse themselves in a new culture. Studying, or training, or volunteering in another European country can help our learners and young people to blossom and grow. I'd encourage all learners to be open to participating in these international learning experiences. Even short-term periods abroad can be transformational."
Léargas Executive Director Lorraine Gilligan said: "I'm very excited to launch this new Léargas strategic statement with Minister Harris this morning. We in Léargas have worked hard to balance the knowledge and commitment demonstrated by our staff with the ambition we have for our new programmes in this strategic statement. We're planning to make waves with our programmes, our partnerships and most importantly, with the people who reach their full potential by taking the plunge into EU Programmes with us."
Our vision for 2021 to 2023 is:
An inclusive Ireland where we all can participate in and enjoy the transformational value of national and international lifelong learning experiences and be supported to reach our potential.
To support this vision, the strategy identifies three priorities:
People Matter – We commit to raising awareness of the available opportunities that international programmes offer to enhance inclusion and solidarity on the programmes. In doing this, we will gather and share evidence of the impact of our work to support people from all backgrounds toward personal empowerment.
Partnerships Work – We will continue to prioritise relationships, networking, and partnerships with a broad range of people in different organisations, across Ireland and Europe. We commit to working in collaboration with the European Commission, colleagues working in educational and youth organisations, and individuals who wish to take on international experiences.
Programmes Transform – We aim to strengthen our programme delivery, funding management, auditing, and compliance over the coming years.
You can download the Strategic Statement from our Resources section.