2024 NUI Certificate in European Youth Mobility Project Management
Applications are now open for the 2024 NUI Certificate in European Youth Mobility Project Management, a Level 8 Special Purpose Award delivered by Léargas in partnership with Maynooth University.
This programme is an excellent practice and professional development opportunity for youth workers and practitioners in the youth sector who are ready to delve into the dynamic world of European and International Youth Work. It is also an excellent strategic opportunity for organisations to embed an international approach into their work. Essentially, this programme aims to support capacity building to create life changing experiences for young people.
Applications close on Monday 20th November at 5pm. If you are interested, please apply through the SALTO website.
To find out more, join our online Q&A session on Nov 7th 1:15 p.m.  -2 p.m. BOOK your place here!
Who is this programme for?
It's aimed at youth service managers and youth workers and those working in non-formal youth-led contexts.
It is particularly relevant for people who are currently designing and delivering youth work programmes with young people and are ready to strategically embed a European dimension to their work.
Programme Structure
This Level 8 certificate programme adopts a blended approach over 100 hours contact, plus personal study. It is designed around four blocks – see below and is consists of three mandatory residential seminars in Maynooth University and regular weekly online learning which take place on Thursday 10.00-13.00. There is an 80% attendance requirement, which will be monitored.
The programme includes an International Study Visit to Slovenia May 14th – 17th, 2024. This is a compulsory element of the programme.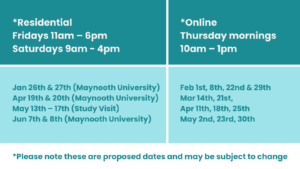 How is the programme assessed?
Please note, students will be expected to undertake individual study and complete assignments outside of contact hours.
It will be assessed through a range of continuous assessment methods including essays, presentations, learning journals and project proposals.
What QQI level is the Certificate?
The NUI Certificate is awarded at Level 8 on the Irish National Framework of Qualifications and carries 20 credits in the European Credit Transfer System (ECTS).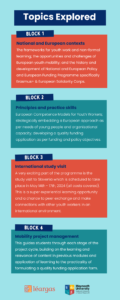 Fee and Payment
The course fee is €480 per participant. This fee is heavily subsidised by Erasmus+ and includes accommodation and meals costs for residential elements and all costs associated with the study visit.
Payment in instalments can be facilitated.
Eligibility
Please note that applicants for the Certificate
must be aged at least 21 years old on 1st January 2024.
Resident and working in Republic of Ireland
Be currently working with young people and have organisational support to engage in European Funding Programmes.
Available to participate in all aspects of the programme
How do I apply?
Apply online via Salto by Monday 20th November 2023 at 5pm.  Your application must include a letter of support from senior management in your organisation.
Shortlisted applicants will be invited to attend a short online interview week beginning Nov 20th and  successful applicants will be informed in December.
The start date of the programme is Friday 26th January in Maynooth University.
Meet the Facilitators
The Certificate team is led by Programme Coordinator and Lecturer Nora Furlong, Léargas, and Hilary Tierney, Academic Director, Maynooth University. The programme will also include case study inputs from practitioners in the field, Léargas staff, European Researchers and Maynooth University Academics.
Nora Furlong
Nora is a youth worker, facilitator,  educator & project manager who is focused on creating inclusive and creative opportunities for young people and youth workers  spanning diverse learning environments. She is passionate and committed to the role of youth work, non-formal and formal learning in creating positive change in the lives of young people and in creating kinder communities.
Hilary Tierney
Hilary is Associate Professor and programme lead for Community Work and Youth Work in the Department of Applied Social Studies in Maynooth University. She gets to work every day with amazing people who are committed to social change, to developing our capacity for critical curiosity and creating a world worth living in.
Further queries
If you have any further queries at this stage, we would love to hear from you, contact Nora: nfurlong@leargas.ie